17 Sep

12 Artists of the Caribbean and Its Diaspora Who Are Shaping Contemporary Art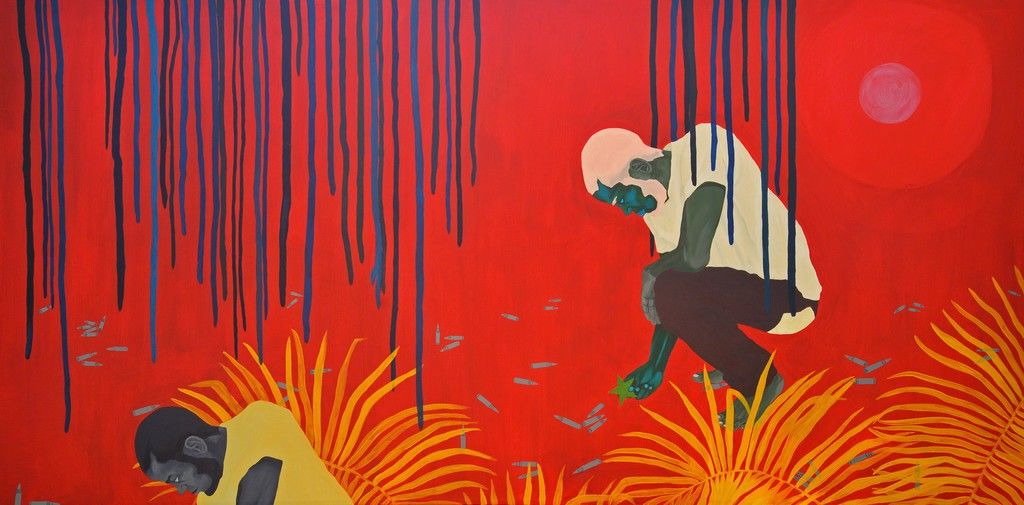 Contemporary artists from the Caribbean are pursuing practices that are kaleidoscopic in range and diverse in scope. Their work reflects the multitude of experiences of the region's 26 countries as well as its many diasporic cultures in metropolitan centers.
Over the past 15 years, numerous exhibitions have contributed distinct readings of the work of artists of the Caribbean. Highlights include "Infinite Islands" at the Brooklyn Museum in New York (2007–08); "Caribbean: Crossroads of the World" at the Museo del Barrio in New York (2012); and "Relational Undercurrents: Contemporary Art from the Caribbean Archipelago" at the Museum of Latin American Art in Long Beach, California (2018). In turn, discussions have grown around Caribbean artists and the relationship between the continent and the islands; the configurations of race and the rights to representation; the use of disposable materials; the persistence of colonialism; the recovery of ancestral knowledge and spiritualities; and the connection to the environment.
Most recently, a new exhibition at the Pérez Art Museum in Miami, "The Other Side of Now: Foresight in Contemporary Caribbean Art," curated by María Elena Ortiz and Marsha Pearce, is showcasing the work of emerging artists from the Caribbean. On the occasion, we share below a selection of influential artists from the region at large. This list is by no means exhaustive, but rather, representative of a variety of artistic processes. It features both emerging and established artists, hailing from the islands, the continent, and the diaspora. They explore subjects as diverse as oil extraction, rural soundscapes, and the queering of history and the body.
Overall, Caribbean artists are gaining traction for their innovative, research-based, and culturally hybrid approaches. More broadly, the unearthing of new histories and denouncing of current power structures is contributing to amend the fraught effects of such artists' underrepresentation.
B. 1959, Matanzas, Cuba. Lives and works in Nashville, Tennessee.
Over the course of her nearly four-decade artistic career, María Magdalena Campos-Pons has earned indisputable admiration for her work that seeks to empower marginalized peoples and women, and debate postcolonial issues, particularly relating to race and inequality.
Her distinctive hybrid style is a byproduct of her African, Chinese, and Hispanic cultural influences. Spanning performance, video, photography, installation, and painting, many of her pieces speak to diasporic experience as well as the reappraisal of non-Western ancestral knowledge and cultural practices.
At Documenta 14 in Kassel and Athens in 2017, she presented Matanzas Sound Map, a mixed media installation exploring the sonic landscape of Matanzas, Cuba, in collaboration with sound artist Neil Leonard. And in 2018, she appeared in the group exhibition "Relational Undercurrents: Contemporary Art of the Caribbean Archipelago" with Esa Palabra MAR and This Word WAITING (2018)—a polaroid diptych featuring the artist's hair flowing against a blue background and transforming in calligraphic gestures.
Her work is held in major institutional collections—such as the Whitney Museum of American Art, the Art Institute of Chicago, the Victoria and Albert Museum—and she has been the recipient of numerous awards and honors such as the 2019 position of artist-curator at the Havana Biennial and the 2016 Robert Rauschenberg Foundation Fellowship, among many others.
B. 1959, Port of Spain, Trinidad and Tobago. Lives and works in Port of Spain.
Christopher Cozier's art reflects the history, race, culture, and politics of the Caribbean, specifically within the context of post-independence Trinidad and Tobago. He places a particular emphasis on the fictionality and flaws of canonical art historical narratives as well as the stereotypes surrounding popularized notions of his home region: paradisiacal, savage, or backward looking, for instance.
Together with architect Sean Leonard and writer Nicholas Laughlin, Cozier has also co-directed the experimental artistic space Alice Yard since 2006. The space is a hub for conversations between artists, curators, and researchers on topics related to Caribbean art.
Cozier's prints, drawings, and installations have gained international recognition through exhibitions such as "Infinite Island: Contemporary Caribbean Art" at the Brooklyn Museum; "Relational Undercurrents: Contemporary Art of the Caribbean Archipelago"; and recently, the Sharjah Biennial 14 in the United Arab Emirates (2019). He was granted the Prince Claus Award for his contributions to the cultural field in 2013.
One of Cozier's latest projects, Home/Portal (2017–ongoing) is made in collaboration with fellow artists Intelligent Mischief and the Design Studio for Social Intervention (ds4si). For this piece, the artists create a series of public interventions that question their sense of location and direction by placing a small red staircase in various spaces in Bogotá, Kingston, and Boston.
Aside from his popularized "Tropical Night" series (2005–2015)—400 watercolors depicting a plethora of dystopian worlds playing, among many other tropes, with stereotypes of Caribbeanness—Cozier has created other powerful projects deserving equal attention. For example, Gas Men / Globe(2014) and Development Blocks (2018) investigate the influence of capitalist extraction of oil reserves as it relates to notions of progress, politics, space, and body movement.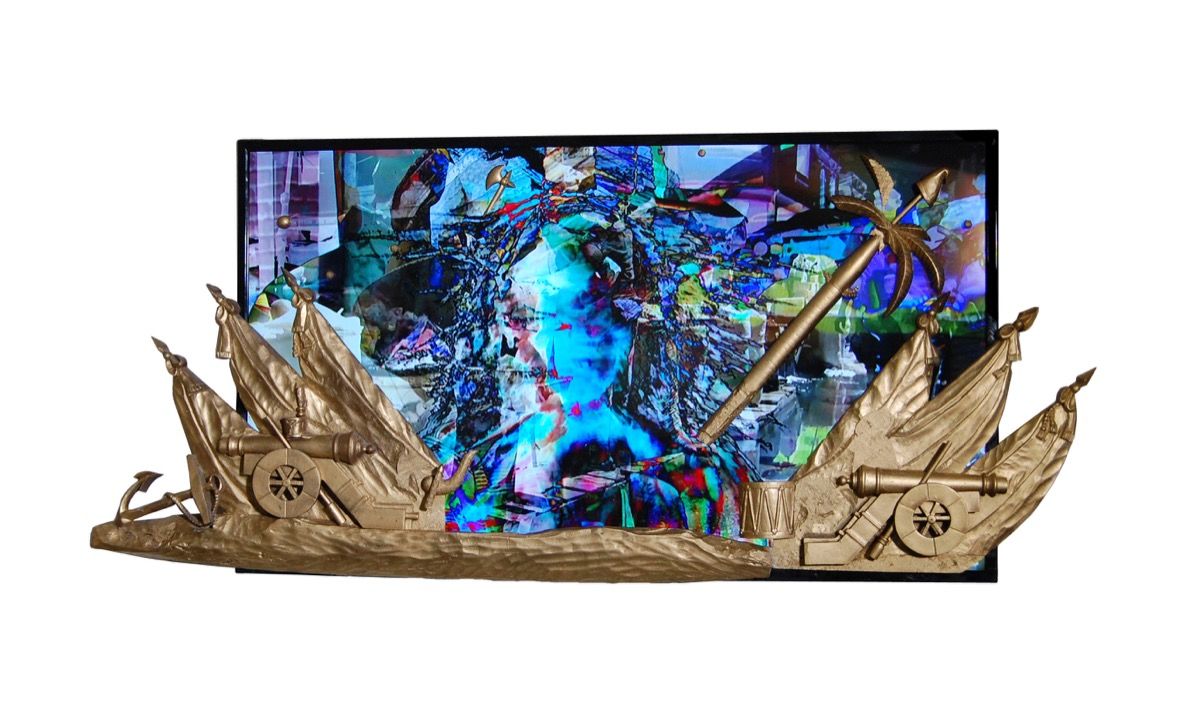 B. 1968, PORT-AU-PRINCE, HAITI. LIVES AND WORKS IN PORT-AU-PRINCE.
Video and installation artist Maksaens Denis is a leading figure of Caribbean new media art. His work is concerned with the intersection of performance, spirituality, queerness, and politics, and is influenced by classical and experimental music.
Denis's work is also informed by Vodun veves, or religious symbols, and incorporates recycled materials—a common thread among artists from Haiti and the Caribbean more broadly. His compositions are often saturated with figurative and abstract motifs joined together by video distortions.
In his intricate layering of imagery, Denis investigates the long-standing historical processes that shape the identity of Black Atlantic diasporic subjects. These studies are at the core of the riveting video piece for the installation Marchons unis (2017). In it, the artist blends together a succession of images from everyday life in Haiti with patriotic symbols and evanescent male figures as they frantically change; the video is set to a musical piece combining electronic beats and the Haitian national anthem.
In the confluence of ritualistic and contemporary visual languages, Denis's installations resort to totem-like formats which simultaneously reinforce sacredness and dislocation. Examples of this specific connection abound in his work, such as the series "Le chuchotement des étoiles" (2017) and "Does Resisting Make Us Men" (2018), which were shown, respectively, in Les Halles de Schaerbeek in Belgium in 2017, and as part of the exhibition Mammon at the Museum of Fine Arts of Split, Croatia in 2018.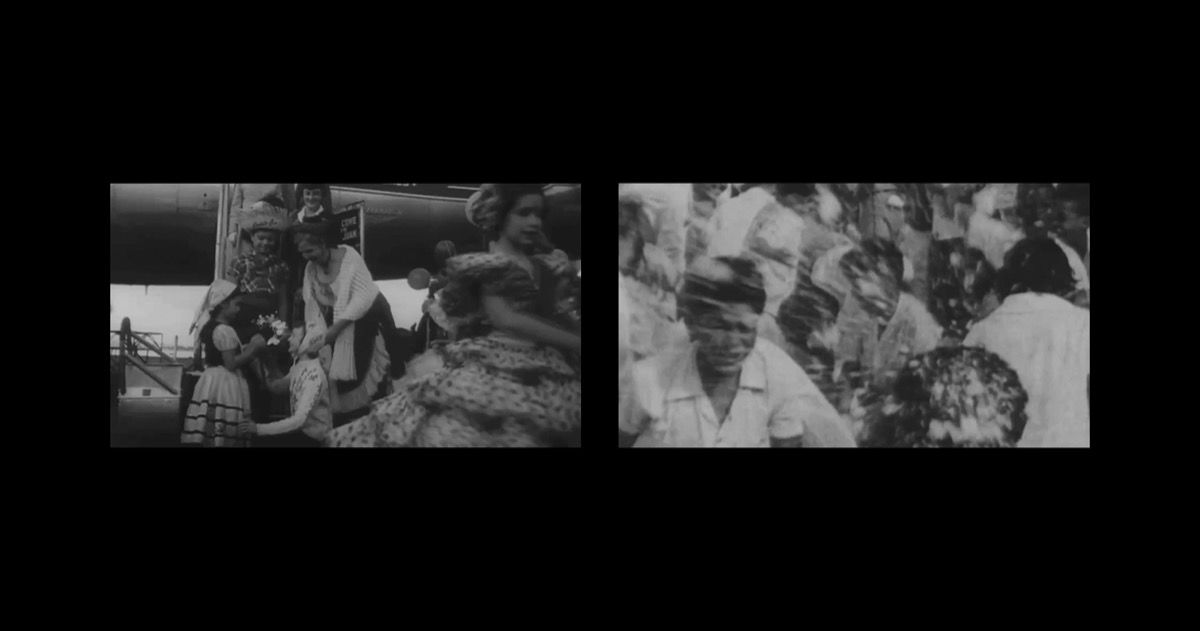 SOFÍA GALLISÁ MURIENTE
B. 1986, San Juan, Puerto Rico. Lives and works in San Juan.
Sofía Gallisá Muriente explores the relationship between established historical narratives, popular culture, and political activism. Through her art, she seeks to expose contradictions in cultural constructs and human behaviors. At times, she does this through the poignant recourse of satire.
Gallisá's recent work is focused primarily on Puerto Rican case studies, ranging from mid-20th century politics as in Lluvia con nieve (2014); popular mourning practices in Puerto Rico as in Presente, presente, presente(2017); and the impact of natural disasters on the preservation of political memory, as in El Bohío (2019).
In addition to her art practice, Gallisá is co-director—together with artists Pablo Guardiola and Michael Linares—of Beta-Local. The artist-run non-profit, founded in 2009, hosts a number of research, residency, and pedagogical programs. Beta-Local's presence in San Juan has been pivotal for nurturing artistic communities and promoting initiatives of social intervention after Hurricane Maria tore through Puerto Rico in 2017.
Last year, Gallisá's work Asimilar y destruir (2018) was featured in "Unidad mínima," a regional collaborative show between the artistic organizations Espacio El Dorado (Bogotá), Sagrada Mercancía (Santiago), UV (Guatemala City), and Km. 0.2 (San Juan). In this work, the artist brings together photograms of an ice skating rink melting in Puerto Rico to discuss issues pertaining to the construction of memory, the impermanence of history, and power relations between the Island and the United States.
More recently, her works have been featured in the latest iteration of the Whitney Biennial, as well as the 2019 exhibition project "Mundos Alternos: Art and Science Fiction in the Americas" at the Queens Museum and "Relational Undercurrents: Contemporary Art of the Caribbean Archipelago."
B. 1984, Santo Domingo, Dominican Republic. Lives and works in Santo Domingo.
Hulda Guzmán stands out as one of the most distinctive and strongest painters within the Caribbean region.
Her work is candid and challenging as it combines various styles and art historical references. A Little Innocence (2013) and Dynamic Relaxation(2015) exemplify her interest in Japanese woodblock prints from the Edoperiod and Persian Safavid illustrated manuscripts from the 16th century. Other works, such as Some Are Born to Sweet Delight (2010), They Do, We Celebrate (2011), and Untitled (2011), show the inspiration she gleans from early Netherlandish Renaissance paintings—namely the work of Hieronymus Bosch.
Guzmán's work seeks to blur the lines between the private and public spheres, be that in her portraiture or her depictions of lush interior spaces; erotic and orgiastic scenes in tropical landscapes; and casual hang outs with inner demons. These thematic explorations not only confront the viewer, but also pose hyperbolic and satirical references to life in the Dominican Republic.
Guzmán's work has been promoted and supported by the Lyle O. Reitzel Gallery and the Museo de Arte Moderno in Santo Domingo. Her paintings are currently featured in "The Other Side of Now: Foresight in Contemporary Caribbean Art."
DANIEL LIND-RAMOS
B. 1953, Loíza, Puerto Rico. Lives and works in Loíza.
Discarded materials are a common source of inspiration for many Caribbean artists and art collectives. The recent sculptural works of Daniel Lind-Ramos—assemblages of industrial and organic elements—are exemplary of this. The artist works to commemorate the presence and memory of the Black Atlantic Diaspora of the artist's hometown of Loíza, Puerto Rico. Works like Centinelas (2013), a totemic installation made out of coconut palm trees and metalware, propose a retrieval of colonized peoples' historical, political, and cultural narratives.
Also an established painter, Lind-Ramos has long investigated themes related to the carnivalesque, racial politics, and the diasporic experience. His early works, with altar-like formats and the use of mixed media, spoke to the artist's cultural and spiritual hybridity and foreshadowed his later sculptural practice.
Lind-Ramos has been recognized for his work in France, the United States, and beyond. He won the Piña de oro at the 2016 Gran Bienal Tropical in Piñones, Puerto Rico; participated in the 2010 World Festival of Black Culture and Arts in Dakar; and was a resident of the Joan Mitchell Center of New Orleans in 2018. Notably, Lind-Ramos's installation and sculptural pieces have been showcased with positive critical reception in this year's Whitney Biennial.
B. 1985, Port-au-Prince, Haiti. Lives and works in Port-au-Prince.
Dedicated fully to her artistic career since 2013, Tessa Mars creates paintings that have earned attention due to their powerful visual language and thematic explorations. Conflating the distinctions between autobiographical and historical, Mars's works are mostly concerned with issues related to gender, politics, and popular culture.
The artist's alter ego Tessalines, a character that riffs on the figure of the Haitian Revolution leader Jean-Jacques Dessalines, is a recurring trope in her work. With scaled skin and wearing only a cocked hat with horns, Tessalines serves as a vessel for personal and collective healing. Simultaneously unapologetic, defiant, and welcoming, she refers to values of patriotic independence and Haitian Vodun practices.
Through recent residencies at the Rubenstein Art Center at Duke University and Residency Unlimited, Mars has been able to nurture her series "We Are Here" (2016–2019). In their bold color palette and flattened surfaces, works like Nou la ansanm (2019) and Elle et moi (2019) stand out as declarations of individual creative freedom, while connecting to the artist's Haitian, Caribbean, and Diasporic roots.
Her work has been exhibited in various locations in 2018 and 2019 for the show "Visionary Aponte: Art and Black Freedom" curated by fellow Haitian artist Édouard Duval-Carrié.
B. 1981, Kingston, Jamaica. Lives and works Chicago and Kingston.
In the past decade, painter, mixed media, and installation artist Ebony G. Patterson has built a body of work characterized by a unique, lavish, and daring layering of patterns and materials. Her art deals largely with constructions of identity, the body, black youth culture, violence, and social disenfranchisement. In her 2018 solo show at the Pérez Art Museum in Miami, "while the dew is still on the roses…" the artist addressed gardens as sites of beauty and burial in her work.
Patterson's elaborate works are often described as neo-baroque. Using various materials—such as lace, beads, paper collage, and fabrics, among many others—she tells complex stories of identity-building that collapse the traditional boundaries of time and space, while addressing intergenerational legacies of, for instance, racial tropes.
Recent larger installations and dynamic three-dimensional hanging pieces—such as the "…for those who bear/bare witness…" series (2018)—signal a deeper intersectional direction in the nature of her art.
B. 1972, Cartagena, Colombia. Lives and works in Puerto Colombia, Colombia.
Often described as obscure, cryptic, and supernatural, the work of María Isabel Rueda has become a staple of discourse around continental Caribbean art. Her various projects are made through video, photography, and drawing, and generally deal with colonialism, the preservation of memory, and human relationships with the landscape.
These interests led Rueda to create the 2003 series "Vampiros en la Sabana"—a photographic project portraying female Goth youths in Bogotá. The series's title plays on the Cuban animated movie Vampiros en la Habana. Between 2004 and 2013, Rueda also created "The Real. Retrato de Norman Mejía," a double portrait of video studies and frottages capturing the late Colombian neo-expressionist painter's abandoned dwelling. Rueda's recent projects, such as the video installation pieces Lágrimas de Isis (2016) and Acquatopía (2018) are investigations into the symbols and meanings associated with bodies of water and fertility—and how those symbols and meanings are commonly construed.
In addition to her individual art practice, Rueda co-directs, with Mario Llanos, the independent artistic and curatorial collective La Usurpadora. In the past few years, they've run a dynamic artist residency program in Puerto Colombia, and curated significant exhibition projects such as the 16th Regional Arts Salon of Artists of the Colombian Caribbean in 2018. In 2019, they joined the curatorial team for the 45th Colombian National Salon of Artists.
NYUGEN SMITH
B. 1976, Jersey City, New Jersey. Lives and works in Jersey City.
Nyugen Smith explores the lingering effects of colonialism on the African Diaspora in his work, particularly in terms of intergenerational trauma, oppression, and violence. His mixed-media works are assemblages of found objects and drawings. Smith is inspired by his Caribbean ancestry—he is both Trinidadian and Haitian—as it highlights notions of fluidity, identity construction, and the sociopolitical history of the region.
Smith's work Isle de Tribamartica (2017), part of the series "Bundlehouse Borderlines," satirizes previous imperial impulses to label and organize the Caribbean. The work draws from the visual aesthetics of colonial cartography in order to offer a representation of a fictional island. The piece was recently included in the show "Relational Undercurrents: Contemporary Art of the Caribbean Archipelago" and is now exhibited in "The Other Side of Now: Foresight in Contemporary Caribbean Art." From a Diasporic vantage point, the piece addresses cultural continuities and forced impositions that are still shaping the Caribbean.
Smith's art is also informed by Caribbean carnivalesque practices, an influence he explores through the inclusion of ritualistic elements into performance works, and his participation, during carnival time in Port of Spain, of Trinidadian designer Robert Young's mas band. The piece While You Sleep (2019), a performance presented at the Nordic Black Theater in Oslo, calls on the importance of ritual practices for preserving the uprooted heritage of millions of Africans after being forced to cross the Middle Passage.
B. 1963, St. Andrew, Jamaica. Lives and works in New York.
Jamaica-born, New York–based artist Nari Ward is a leading figure of contemporary installation, sculpture, and mixed media art. His body of work is largely made from found materials, and is characterized by its monumentality in scale and exquisite execution. Social and political in nature, Ward's work connects experiences of local disenfranchisement with larger discussions on the inequality of power, resource distribution, and political leverage on a global scale.
Ward came to prominence internationally after his first solo show at the New Museum in New York in 1993, which notoriously showcased his work Carpet Angel (1992), a majestic installation piece that used recycled rugs and plastic bottles as prime materials. Later projects, such as Savior (1996) and T.P. Reign Bow (2012), deal with issues of homelessness and surveillance, and evidence the artist's long-standing reflections around the well-kept dynamics of engrained containment and racism in contemporary societies.
The Jamaican artist's work from the past 25 years in New York City was featured at the New Museum in early 2019 in a solo show. Works such as We the People (2011) and Breathing Panel: Oriented Right (2015) signal Ward's interest in criticizing the inherent flaws of representation of dominant political systems as well as connecting with his African Diasporic roots. The show also stressed his increasing concerns with the racial tensions and gentrification processes experienced in Harlem, where he lives.
B. 1983, Port-au-Prince, Haiti. Lives and works in Philadelphia, Pennsylvania.
The complexly layered art of Didier William offers a challenge to the viewer by resisting categorizations from a technical, material, or thematic standpoint. At the intersection of painting and printmaking, his body of work interrogates the relationship between the body, sexuality, and history. The artist stresses the tension between these variables through a queering aesthetic, which allows William to engage in personal discussions about his own Caribbean background and diasporic experience.
William's work often uses the representation of the gaze as a means of transforming and negating the human body. This trope started appearing in his work around 2015. His latest series "Curtains, Stages, and Shadows" (2018), involves the painstaking process of carving these eyes out of wood panels to question the spectacularization and performativity of identity.
Inspired by artists such as the late Cuban printmaker Belkis Ayón and the German painter and photographer Sigmar Polke, William creates work that is challenging, spiritual, and intensely rooted in painterly explorations. His series "Gravity"combines textures and colors, dark spiritual motifs, and bodily fragmentation. Pieces like I Remember When I Was a Little Girl (2013) express the artist's long-standing inconformity with entrenched tropes of masculinity associated with black bodies.
Correction: A previous version of this article incorrectly stated the name of one of the curators of the exhibition "The Other Side of Now: Foresight in Contemporary Caribbean Art" as Masha Pierce. The curator's name is Marsha Pearce.
Correction: A previous version of this article incorrectly stated that Ebony Patterson lives and works in Kingston, Jamaica, and Lexington, Kentucky. Patterson lives and works in Kingston, Jamaica, and Chicago.
---
Fuente: https://www.gallerywendinorris.com/news-reviews/12-artists-of-the-caribbean-and-its-diaspora-who-are-shaping-contemporary-art